And now for a little bit of self-promotion. . . .
My company, Shorago Training Services, has recently received the 2013 San Diego Business Award in the category of Business Services. Shorago Training Services provides corporate education and seminars in the areas of business writing, ethics, presentation skills, professionalism and – of course – sexual harassment training.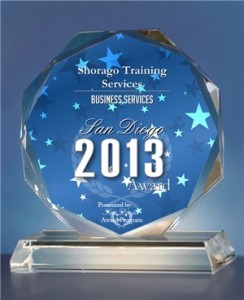 The San Diego Business Award is given to companies "that we believe have achieved exceptional marketing success in their local community and business category. These are local companies that enhance the positive image of small business through service to their customers and our community."
Here's the press release.
Yay, us!