Sexual Harassment Training: California AB 1825 and San Diego
Through Shorago Training Services, Alisa Shorago, J.D. delivers on-site sexual harassment training to companies that complies with California law (AB 1825 and regulations) and
is informative, fun, and entertaining
is a good value
positively affects workplace behavior.
• New: ask about our one-on-one sexual harassment training sessions* 
Sexual harassment training again?! Yes, California AB 1825 training is required at least every two years for companies that have at least 50 employees and/or contractors. But it doesn't have to be the same old boring online session or seminar.  How was your last harassment prevention training? Did your employees, from line supervisors to the C-Suite, enjoy and learn from it? If not, consider using Shorago Training Services, which provides AB 1825 training throughout California (and, occasionally, throughout the United States).
"An awesome learning experience"! – Supervisor, biopharmaceutical company
"Fun, fast paced. I learned a lot." – Manager, international manufacturing company
"Thank you very much for your support and excellent professional training on harassment prevention. . . . You kept the audience alive and added value to the information with humor. THANK YOU!" – HR & General Affairs Manager, TDK-Lambda Americas
"[T]he best harassment training I've been part of." – Supervisor, nonprofit
Why sexual harassment training?
Here's an article suggesting that training leads to fewer harassment lawsuits. And this article in Business Management Daily called "Required by Law or Not, Make Harassment Training Mandatory" makes a good case for training even if your business is outside a state that requires harassment.
If your business has 50 or more employees and you do business in California, California law (AB 1825) may require that your company provide sexual harassment prevention training to your supervisors on a regular basis (and to new supervisors within six months of hire or promotion).
However, even where training isn't required, it's usually a good idea. In California, non-supervisors–and supervisors from companies smaller than 50–can also benefit from sexual harassment prevention training. Everyone benefits from reducing the incidence of sexual harassment in the workplace, because sexual harassment lowers workplace morale and productivity and can result in an expensive lawsuit against the employer. Here's an article on the return on investment from harassment prevention training.
Why train with me?
"More interesting than I expected. Compelling speaker."– Attorney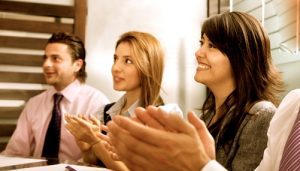 I'm an accomplished and knowledgeable trainer, as well an attorney with over 15 years experience in litigation. I've provided sexual harassment training for companies of all sizes–including a Fortune 50 company–in diverse industries, from manufacturing to retail to non-profit. I provide San Diego sexual harassment training (I'm based in San Diego) but also provide sexual harassment training throughout California–delivering AB 1825 seminars in Orange County, Los Angeles County, the San Francisco Bay Area, and, occasionally, outside the state as well.
I firmly believe in keeping training a great value. I also believe in keeping my training fun and effective. Participants routinely remark on my knowledge and sense of humor.
For a San Diego sexual harassment training or a sexual harassment training elsewhere in California that your employees will learn from and enjoy, email or call (or use the "Contact Us" form).