Testimonials from Training Participants
The following are just a few sample comments from participant evaluations of seminars in several of our topics, including on-site sexual harassment training courses, business communication courses, and business and email writing courses. You can also see more recommendations on Alisa Shorago's LinkedIn page.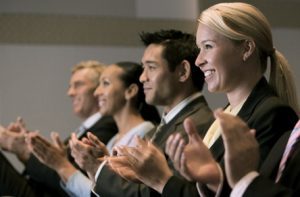 On-Site Sexual Harassment Training
"Fun, fast paced. I learned a lot." – Manager, international manufacturing company

"Much better and more interactive [than previous harassment classes taken]. Loved it!" – HR Director, medical manufacturing company

"[The t]wo hours flew by–appreciated the real-life examples." – Supervisor, non-profit organization

"She rocks!" – Supervisor, restaurant group
Business Writing and Business Communication Skills Training
"I learned a lot about business writing. She was effective, personable, and professional. This class is a must for business[people]." – Customer service employee, Fortune 250 manufacturing company

"Great!! [Alisa was] so funny–made it so entertaining. Can't wait to try this information out." – Employee, educational institution

"Touches on all the relevant, major issues in business writing. No 'fluff.' Great, enthusiastic presenter. . . ." – Employee, wealth management firm

"Evaluations were fantastic! I look forward to working with you more in the future."
– Training coordinator, non-profit company
These are just a few examples – we receive many glowing evaluations from virtually every seminar we provide. From San Diego to Orange County to the Bay Area and throughout the United States, if you'd like to bring over a subject-matter expert in sexual harassment prevention training and business writing to help your employees with what to say – and what not to say – please consider contacting Alisa Shorago of Shorago Training Services.